Me saying I am blessed is quite an understatement. A couple of weeks ago when I was in the hospital to have surgery, one of my best friends,
Meg
, reached out to some of my favorite mommy bloggers (didn't get an email yet? I'm making this a series...stay tuned!) and asked them all about mommyhood. I got so many posts back and the response was overwhelming. The advice that was given to me through these posts is PRICELESS!!!
With so many new mommies out here in blog-land and pregnant bloggers and bloggers that are eventually going to get pregnant, I thought you all would appreciate these posts as much as I do!!!
Allow me to introduce The Vintage Apple's new weekly series:
We start with Julie...one of the MOST BEAUTIFUL souls I have ever had the pleasure of knowing. I have never met this mommy, but she is on my list of people to
stalk
meet. I love her blog and absolutely adore her. She has given me so much advice already and I know that I can reach out to her anytime and ask her anything. We share an affinity for See's candies and we both are mommies to precious little boys!!!!!!! Please go by her blog and show her some love...she is amazing and will quickly become one of your FAVORITE bloggers. I promise!!!!!!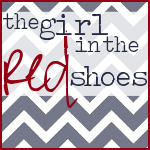 My name is Julie and I blog over at
The Girl in the Red Shoes
. I'm a new mama to my little man Hudson, who is 5 months old. I blog about life as a mom, my attempts at decorating my house, and everything in between!
Something you wish you knew before having the baby:
There are SO many things I wish I knew before having a baby! I wish I knew how infrequently babies sleep. I thought newborns slept a lot....but mine seemed to be awake all the time! I wish I knew how much babies poop....and that poop will get everywhere. On the wall. On your clothes. On the floor. All over the baby. In the car seat. And you know what? At some point it won't even phase you. Gross, I know. I also wish I knew that it was okay (and normal) to feel like you have absolutely no clue what you are doing....all the time. I wish I knew that I would have zero time to cook or clean my house, and that's okay....those things can wait. I wish I spent less time when I was pregnant worrying about being a good mom.....I know now that I would do ANYTHING for that little man and makes me the best mama to him.
Most surprising mommy moment:
I was surprised at how sweet breastfeeding my baby turned out to be. I don't mind those late night feedings...it means uninterrupted snuggle time with my little man. I'll sleep in a few more years....I can't get this time back!
How has motherhood impacted your life all around?
Everything is different now that I'm a mama. I'm more patient, more scatterbrained, less organized, more thankful, more forgiving, spend way less time on my makeup, have dirty hair most days, and feel more exhausted, yet happy, than I've ever been. I can't even imagine life without Hudson. He makes everything better.
Best piece of advice:
My best piece of advice is to tell you that yes, you are doing it right. There is no right or wrong when it comes to your baby.....and whatever your mama instinct tells you to do is probably right. Also, remember to spend time with your spouse. Men can feel left out, especially in those early days, so make sure you take time to build him up and tell him what a good daddy he is.
To my sweet friend Michelle:
You are absolutely a wonderful mama to your little guy! I hope that time goes slowly for you so that you can soak up every little second of your sweet baby. I hope that you get some sleep. I hope that you make some time for yourself and for your marriage. I hope that you cut yourself some slack and let your house get messy and laundry pile up. Those things can wait. I promise you that in a few weeks you'll feel more confident in your mama skills. I hope you take lots of pictures, and that you get to be in some of them too. Love you girl!